Blooming Love
2021, VR, video, photo

The room is flooded with pink light. Still images of digital plants are being displayed in the rhythm of the breath of a female person. Then we see a photo of a plant at its original location. The room itself is already somewhat reminiscent of a greenhouse, due to the light color and the type of lamps on the ceiling.
The VR is best experienced sitting on a swivel chair. The virtual experience starts also in digital pink light. Like a sight barrier, we can't see into the distance of the virtual bogland but we focus on the plants 'growing' nearby and their constellation among themselves. The gaze is thus concentrated on the morphology of the plants. Slowly the visitor is moved through the virtual environment and after a minute the light changes to real-looking daylight.
The hostile disregard for the visitor's virtual body, as well as the absence of further interactivity with this world, distills the visitor's experience to a disembodied gaze. A presence in absence. Proximity without touch. It is a virtual nature, which we will perhaps have to experience in this manner to gradually bid farewell to the habitat of these plants – in the name of passionate love for them.
The work is generative and can be visited as long as visitors want.
Daniel Hengst (*1981 in Leipzig/Germany) is a Berlin-based media artist & his artworks are often developed and presented in the framework of the performance arts. Since 2015, works in virtual reality, video- and sound-installations, sound performances, artistic research projects and web projects have been created. The works deal with the society-changing potential of technologies or/and taking non-human subjects into account.
The VR artwork "Blooming Love" was created during the RIXC / EMAP / EMARE Media art residence.
Supported by the Goethe Institut in Riga.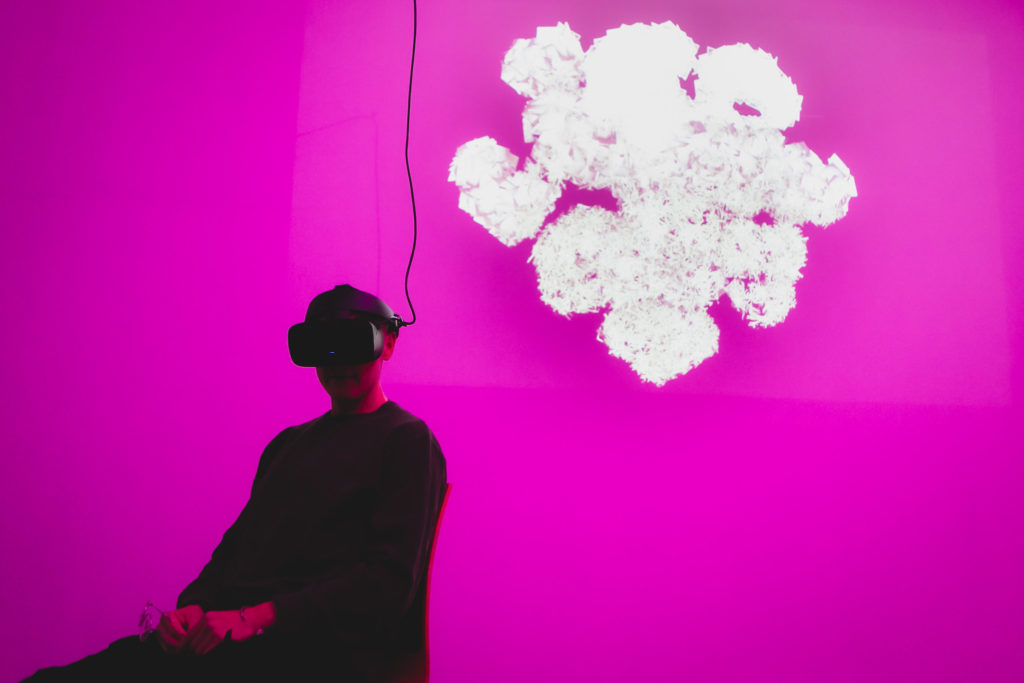 Daniels Hengsts
Ziedošā mīlestība
2021, VR, video, digitālā druka
Telpu piepilda rozā gaisma. Digitālo augu attēli tiek parādīti sievietes elpas ritmā. Tad mēs ieraugam bildi ar augu tā orģinālajā atrašanās vietā. Telpa pati par sevi atgādina siltumnīcu dēļ gaišās krāsas un griestu lampām.
VR vislabāk ir pieredzēt, sēžot uz šūpuļkrēsla. Virtuālā pieredze arī uzsākas digitālajā rozā gaismā. Kā redzes barjera, mēs nevaram ielūkoties virtuālā purva tālumā, bet mēs varam saredzēt augus, kas aug turpat līdzās, kā arī to veidotos zvaigznājus. Skatiens koncentrējas uz šo augu morfoloģiju. Lēnām skatītājs tiek pārvietots cauri virtuālajai videi un pēc minūtes gaisma pārtop par reāla izskata dienasgaismu.
Nedraudzīgā nevērība pret skatītaja virtuālo ķermeni, kā arī turpmākas mijiedarbības neesamība ar pasauli, liek pārtapt viņa pieredzei par bezķermenisku skatienu. Klātbūtne prombūtnē. Tuvība bez pieskāriena. Tā ir virtuāla daba, kuru mums iespējams būs nepieciešams pieredzēt šādā veidā, lai pamazām atvadītos no šo augu dabiskās dzīves vietas – mūsu kaislīgās mīlestības vārda pret tiem.
Darbs ir ģeneratīvs un apmeklētājs to var aplūkot tik ilgi cik vēlas.
Daniels Hengsts (1981, Leipciga, Vācija) ir jauno mediju mākslinieks no Berlīnes, kura mākslas darbi parasti tiek radīti performanču mākslas kontekstā. Kopš 2015.gada viņš veido mākslas darbus virtuālajā realitātē, kā arī video un skaņas instalācijas, skaņas performances, mākslas pētniecības projektus un projektus tīmeklī. Viņa darbos tiek apskatīts tehnoloģiju potenciāls mainīt sabiedrību, ņemot vērā arī tās būtnes, kas nav cilvēki.
VR darbs "Ziedošā mīlestība" tapis RIXC / EMAP / EMARE Mediju mākslas rezidencē 2020.gadā.
Atbalsta Gētes Institūts Rīgā.